Whether it is an apron for the lab or shoes for golf, finding the right size with the right features is the toughest job ever. You need it to comfortably fit on you and also provide you with what you require from it. For example, you want your running shoes to fit but also not slip and aid in running faster. So for your convenience, I have made Best Boxing Gloves for Training and Sparring.
Finding the best boxing gloves for heavy bag training and sparring poses a similar challenge for you. In fact, it is a bigger challenge in the sense that it has the ability to injure you and also reduce your skills if it is not the perfect one. Furthermore, you should be able to move your hands comfortably too.
It is not just the size that contributes to how you perform in your boxing gloves but many other factors do too. You will get better results only when your gloves allow you to do better. And, your boxing gloves will only allow you to do better when you choose it right for the purpose in mind.
The buying guide here covers everything you need to know to choose the right boxing gloves for yourself. Furthermore, the reviews will give you an idea of what you can actually find existing. The combined knowledge will definitely help you look for your soul-glove more strategically.
In this section, we reviewed 18 best boxing gloves for heavy bag training and sparring. What are those? Let's see the list and click if you want to read the details.
Top 10 Best Boxing Gloves For Sparring
Cleto Reyes Hook & Loop Training Gloves
Fairtex Muay Thai Style Training Sparring Gloves
Everlast Pro Style Training Gloves
Venum Elite Boxing Gloves
Original Deportes Casanova Sparring/Training Boxing Gloves
Top 8 Best Boxing Gloves For Heavy Bag Training
Ringside IMF Tech Hook and Loop Boxing Training Sparring Gloves
Hayabusa T3 Boxing Gloves
Venum Impact Boxing Gloves
TITLE Gel World Bag Gloves
Twins Special Signature Fancy Boxing Gloves
We will walk you through and discuss all 18 training and sparring gloves and their pros and cons below.
Best Boxing Gloves for Training and Sparring
Top 8 Best Boxing Gloves For Heavy Bag Training
Ringside IMF Tech Hook and Loop Boxing Training Sparring Gloves
If you are looking for a glove that fits perfectly on your hands then these Ringside gloves are good for consideration. Apparently, the biggest concern with boxing gloves is how they feel in your hand. In fact, you want the comfort of a tight-fit glove but also want ample flexibility to move your hands-free while boxing.
Luckily, the Ringside IMF gloves let you do both at a very reasonable price. Firstly, it has a snug fit and you can choose the traditional sizes. Apparently, you might find that the perfect size for you in term of weight seems a bit small for your hand.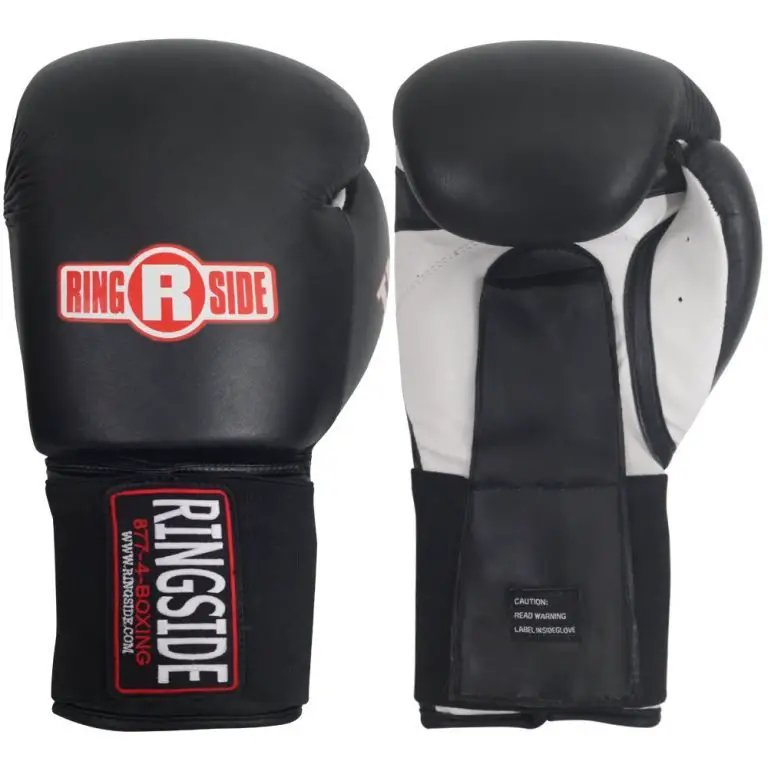 However, that is not the case. Although you may find it a bit difficult to put on the glove or take it off because of its size, once you put in on, it will not even feel like you are wearing a glove. It provides a tight fit around the wrist and knuckles and supports them both well.
Furthermore, it has a nice all-leather build which makes it even more suitable as a boxing glove. But, fastening it is a challenge alone. In fact, you can deal with the velcro straps really easily but dealing with hook and loop system is not at all easy.
So, these gloves fail to amaze in case of convenience but are great in every other aspect of boxing. However, it is best at sparring as too much abuse from bag boxing may prove to be heavy on its durability.
PROS
Quality build and construction.
Quite durable.
Well padded.
Snug-fit.
Comfortable to wear.
CONS
Difficult to put on and off.
The stitches might not be the best.
May not be suitable for too much abuse.
Winning Training Boxing Gloves 16oz MS600
If you have weak wrists or knuckles and are afraid of developing chronic injuries through boxing then these Winning gloves may just be what you need. Winning is a renowned brand for boxing products and the gloves they make are a bit expensive but you get what you pay for.
Firstly, the quality of these gloves is top-notch. You can expect these gloves to last quite a lot of abusive training sessions over the years. Furthermore, it has ample padding to protect your hands and also your opponent's face when you are sparring.
In fact, you feel super comfortable when you wear it but not too much as you will also have less padding where there need to be less padding-the knuckles. So, what you get is an expertly designed glove perfect for improving your boxing skills.
You might, however, face some trouble if you have bigger hands. Apparently, these gloves are great for smaller hands but many people find it too tight for them. However, you can easily get rid of this trouble by choosing larger ones.
You can choose from two types of styles- lace or velcro. The laced one is definitely better. Apart from that, the padding inside the glove may shift somehow and cause pain. In these cases, it is best to refrain from using it.
PROS
Very good quality.
Quite durable.
Comfortable and fit for small hands.
Perfect padding.
Offers good protection.
Available in different colors.
CONS
Quite expensive.
Might be too small for some hands.
Hayabusa T3 Boxing Gloves
One of the most irritating things to do in life is getting rid of sweat odors from gloves or shoes. Apparently, you can do every step of cleaning properly and the odor still will not leave. However, the Hayabusa T3 gloves save you completely from this annoyance.
In fact, it has a fabric in it that is odor-resistant. Furthermore, the gloves are made of genuine leather with good quality padding. In fact, the padding is ample for both sparring and training.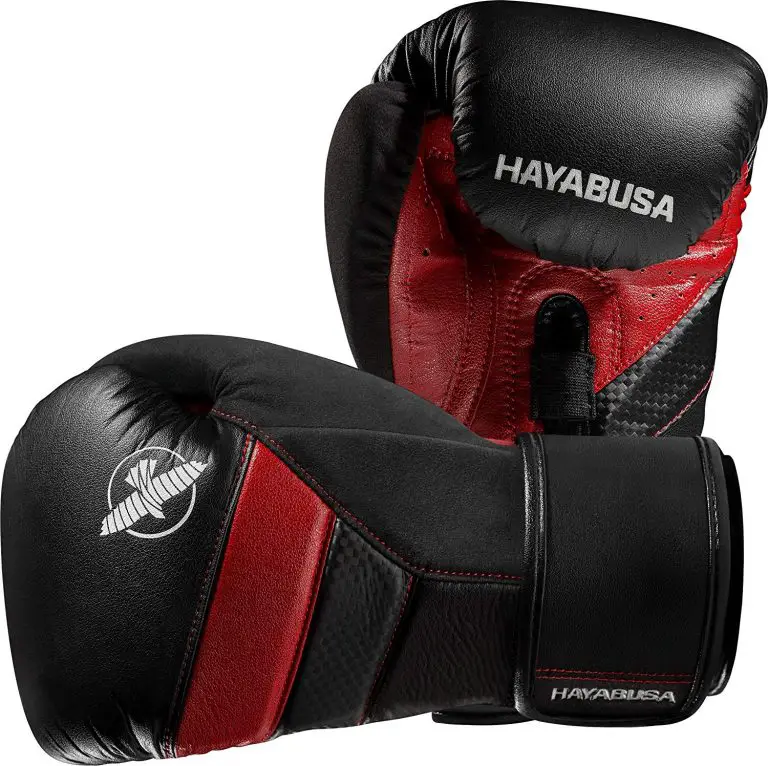 However, the gloves may last more if you are only sparring with it. If you have wrist pain and need wrist support, these gloves are probably best for you. Although many do not prefer the tight wrist support these gloves offer, most others love this feature.
As for the size, these gloves look really compact but once you wear it you will find ample space inside to spread your hands in. However, that does not mean that it will slip or anything.
Since sizes are not always standard so some people may find that the standard size does not really fit their hands so that could be a problem. Apart from that, putting on the gloves and taking them off needs some getting used to as it is not that easy.
While the gloves are great for those who need the features, you might find it a bit expensive for what it offers. However, it is not even nearly as expensive as the Winning glove we just reviewed.
PROS
Offer good wrist support.
Resists odor build up.
Ample padding offers protection.
Great quality build.
Ample space inside for hands to loosen up.
CONS
A bit pricey for what it provides.
May not always fit.
Inconvenient for putting on and taking off.
The wrist support may not favor some.
Venum Impact Boxing Gloves
Just a beginner and need some well-padded gloves to train harder? Then, the Venum Impact boxing gloves will be great for you as they offer great protection at an affordable price. However, you get what you pay for in this case as well.
First of all, what you need is padding and these gloves have three layers of foam padding. So, you can rest assured that you will have ample protection for your hands against chronic injuries. However, there were a few cases where the quality of the foam received doubts.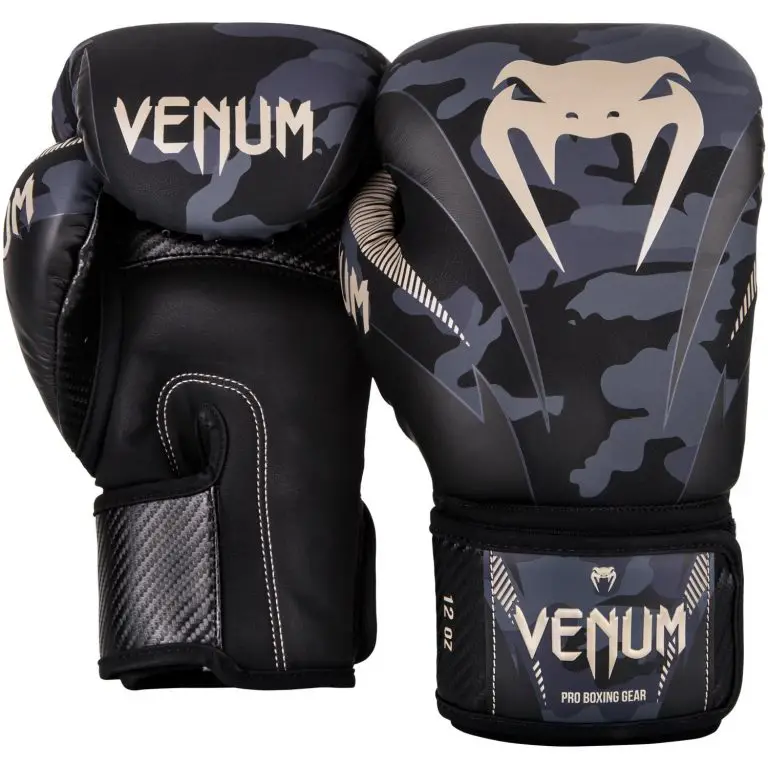 Apparently, the foam does not absorb sweat well and it may turn to mush when temperatures go up. If this actually happens it will definitely obstruct your boxing performance. While in most cases the gloves provided a snug fit, you might still find the gloves to be too small or too big for the size you always use.
The gloves offer ample wrist support and are easy to put on thanks to the velcro system. Although the mesh panel helps airflow it is not ample to drive out the smell. In fact, a customer complained that the gloves had a terrible chemical smell for which he returned it.
All in all, for the price, you get good quality beginners gloves that you can at least use quite roughly.
PROS
Great price for beginners.
Ample padding for protection.
Convenient to use.
Good wrist support.
Attractive looking.
CONS
The inner material might not be of good quality.
Lack of ample air flow.
Might not be true to size.
TITLE Gel World Bag Gloves
Want gloves that will not only offer protection but improve your skills? The Title Gel World bag gloves are what you need them. With their design and materials, they offer you everything you need to perform better.
Firstly, it has an all-leather outer side so you can expect the quality to be good. Secondly, it is really well-padded. Boxers who had given their gloves up because they hurt when boxing bags have started using these gloves and faced no trouble at all. In fact, the number of injuries and pain due to boxing became minimum.
One thing you should be aware of though is that the size of the gloves does not really correspond. Apparently, the larger ones are actually larger than you expect them to be. Furthermore, they are quite heavy.
While the weight may cause early fatigue, it still increases your stamina. Apart from that, your hand will feel really comfortable inside as there is ample cooling lining. Furthermore, the wraparound design with wrist strap will make things even more fit and comfortable.
However, the design is not all that perfect with the thumb being a bit misplaced. So, this is a glove that is somewhere in the middle range in the price aspect with its pros and cons which you may like to avoid our own.
We have a detailed post about Title Gel World Bag Gloves. To know about one of most loving gloves of level boxers check this out.
PROS
Offers great protection during aggressive boxing.
Good quality build.
Ample wrist support.
Fits snugly.
Reasonable price.
CONS
Sizes are not perfect.
Heavier than expected.
Imperfect design.
Twins Special Signature Fancy Boxing Gloves
Need your gloves to reflect your personality besides giving you what it gives everyone else? Then, the Twin Special Signature Fancy Boxing gloves will let you select from its wide range of colors to help you show your personality off a bit. Of course, it will do all these while providing you with the best facilities gloves offer.
Firstly, there are many sizes to choose from and the perfect one for you will fit snugly around your hands. However, at times you may find that your hand is moving around a bit while you still have the gloves on. This will be quite weird as the gloves usually fit quite tightly but this might happen.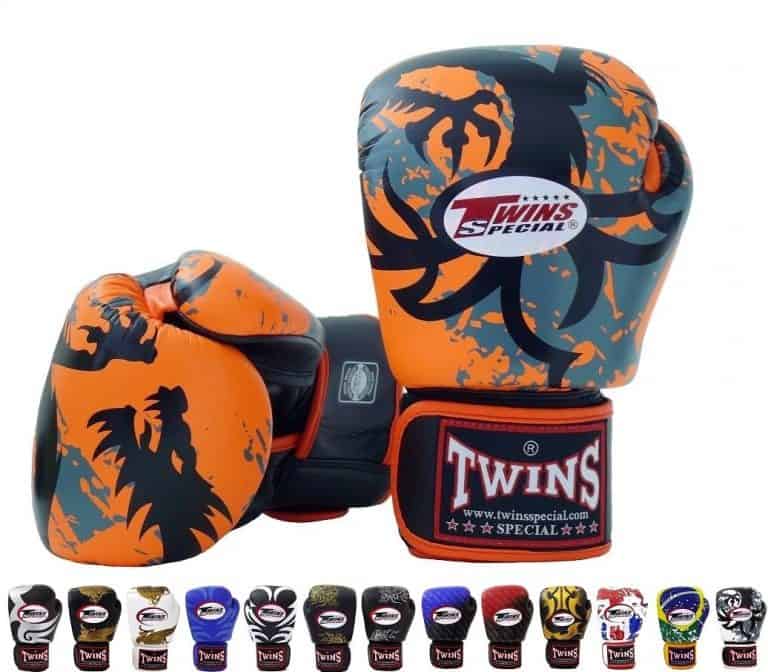 Moreover, although it has ample padding to help protect your wrist knuckles and all other pressure points, some gloves may not have these foams well-distributed. A few customers complained about feeling too much pressure at certain parts of their hands. However, this does resolve itself over time with usage.
Furthermore, the gloves will last although they are not fully made of leather. So, that's not great news for the traditional boxers. Apart from that, the gloves are really easy to put on and take off with their velcro system. Plus, they are affordable.
PROS
Good gloves for beginners.
Offer good protection to pressure points.
Convenient to use.
Fits quite snugly.
Lasts long.
Reasonably priced.
CONS
The padding is unequally distributed.
Might make the hands slip.
Fairtex Microfibre Boxing Gloves Muay Thai Boxing
If you do not mind using synthetic leather gloves that provide you with good performance then these Fairtex gloves are something you can try. Quite reasonably priced, these gloves are better for people who fight light. In fact, women, especially, find the gloves really suitable for them.
The first time you use these gloves, you will realize that they are a tight fit. In fact, you will find it difficult to happily move your hands in the first few days in these. However, with time as you break in it, you will find that it is quite comfortable to fight in.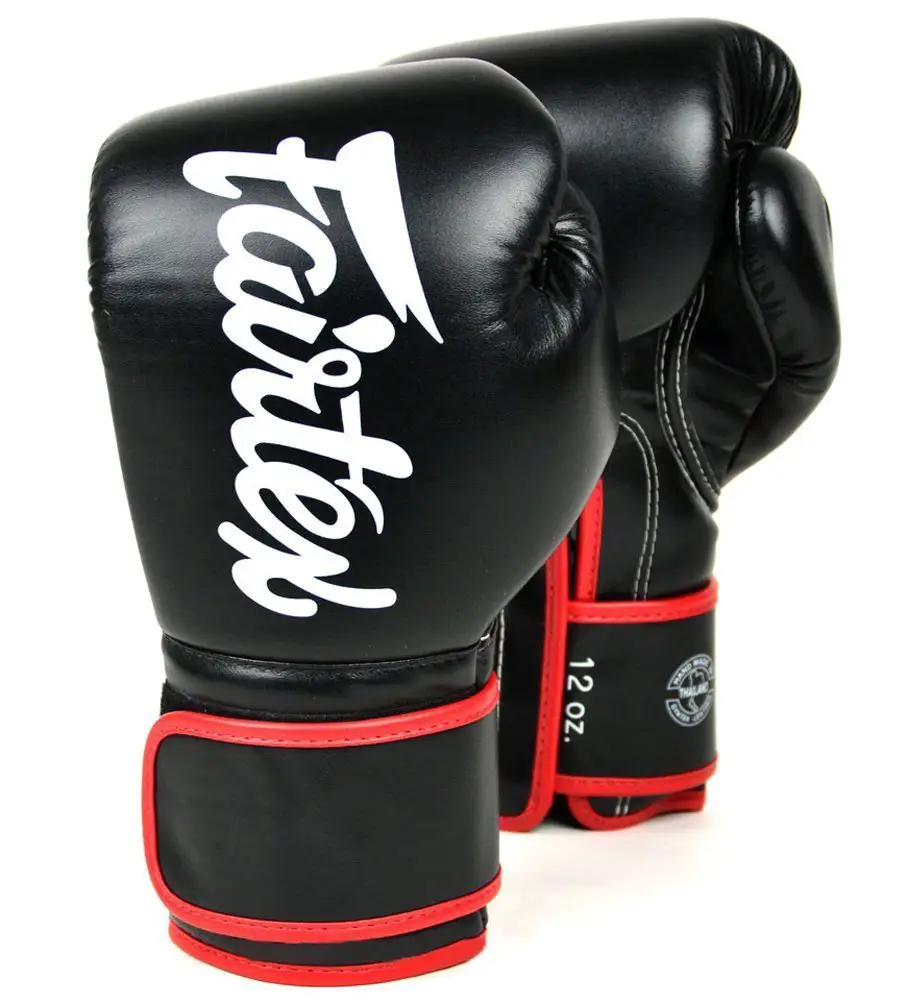 Furthermore, you will see that there is ample space inside for your hands to move in effect which improves your skills. As for the padding, while it is enough, it is not perfectly positioned. You might find that the knuckles offer less protection than needed.
Other than that, while the gloves do last, the materials building it up are not top notch. So, you might not feel very comfortable when the temperature rises because of how the material reacts to it.
But, some people did complain about the material being too cheap for the price they pay. So, overall, these gloves come with both benefits and shortcomings that you have to judge it for.
PROS
Provides a nice and comfortable fit.
Good value for money.
One of the best synthetic leather gloves.
Helps you improve skills.
Ample airflow.
CONS
Build quality is not the best.
Inefficient foam distribution.
Cleto Reyes Extra Padding Boxing Training Gloves
Do you train so hard that normal training gloves do not do justice to your hands? Then, you need extra padding and Cleto Reyes provides you with exactly what you need. In fact, you can go on for years beating that bag to a pulp releasing all your frustration.
You will need to spend a bit extra for the quality you get from these gloves. However, you will only need to replace it after rigorous groundbreaking training for years so the price is totally worth it. Furthermore, your hands will just fit right in the gloves and not even require breaking in.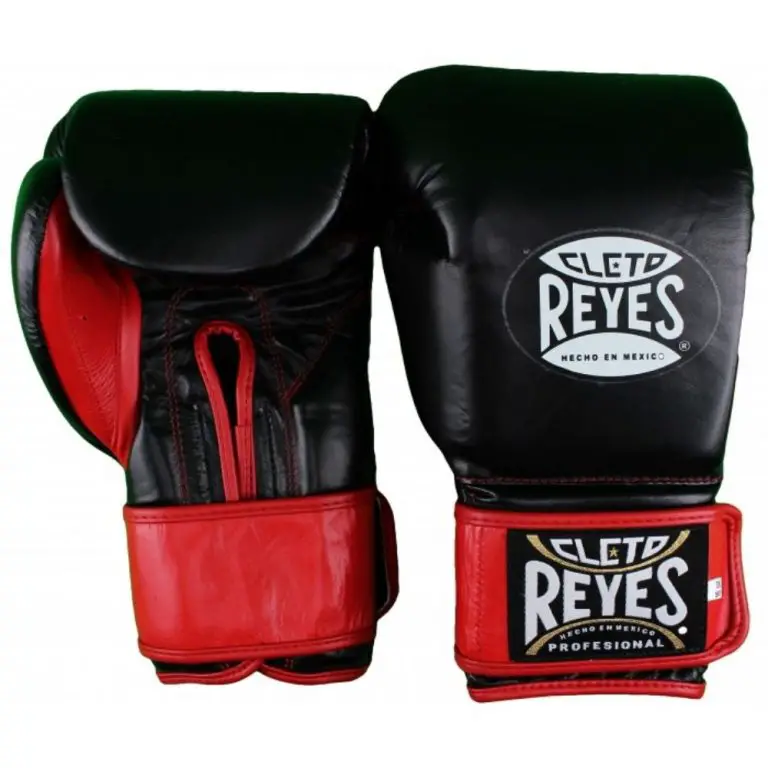 In fact, even if you are just a beginner trying really hard, the gloves with their compact structure and weight will make you feel like a professional. So, you will not just be improving your skills but will be moving faster as well.
The quality of the gloves is what you can expect from Cleto Reyes- the renowned brand. It will feel great and do its job well. Furthermore, it is easy to put on as well.
So, you get kind of more than what you pay for.
PROS
Great for boxers who hit hard.
Lasts quite long.
Good quality construction.
Fits nicely.
Improves performance.
Makes you faster.
Convenient to use.
Best Boxing Gloves for Training and Sparring
Top 10 Best Boxing Gloves For Training And Sparring
Cleto Reyes Hook & Loop Training Gloves
If you have small hands and want to give your opponent a hard time dealing with you then Cleto Reyes never fails you. Apparently, these training gloves are actually best for sparring rather than bag boxing or training. Paying a bit more than usual, you get the best quality in town and gloves that will last.
In fact, these gloves are made of goatskin which makes it really last long and also keeps the insides cool. There will be no smell or anything else that you will need to deal with. Moreover, the design of the gloves with the thumb stitched in protects both your opponent and you.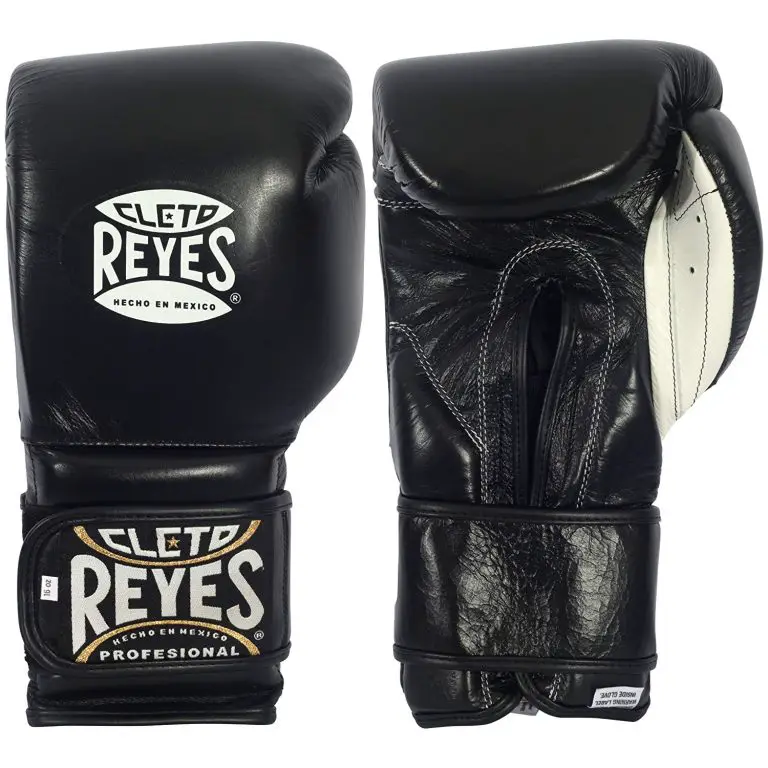 As for the padding, although it claims to have two layers of foam padding, you may feel that the padding is not enough. In fact, you should avoid heavy bag training with these gloves as you will really be hurt. Apart from that, there are size issues as well.
Firstly, these gloves are great for smaller hands and even smaller hands find it a bit too tight and stiff when they first use it. However, after everything breaks in, it gets super comfortable. But, still, the elastic wrap inside might prove to be too tight for many and uncomfortable.
So, it is best to try these on as the size might not be comfortable. But, in every other aspect, these gloves will only impress you.
PROS
Excellent quality.
Very durable.
Easy to take off and put on.
Great for sparring.
Ample protection for you and your opponent.
CONS
May feel too tight.
Not enough padding for bag boxing.
Venum Challenger 2.0 MMA Training Bundle
When you are just beginning to box you look for extra protection as you may get easily injured. Venum addresses exactly what you need with this MMA training bundle. You do not just protect your hands with it or just your partner's face but you protect everything on you that you need to protect.
Let us talk about the gloves first among all the other things. In fact, the gloves are probably the best part of this bundle. They are well padded and thus may feel a bit soft.
Furthermore, the gloves last quite some time unless you are too harsh on them. However, they may not be true to size as a few considered it too stiff and small to box in. Apart from that, these provide ample protection.
As for the other nine things that comes with this bundle, the hand wraps and ankle wraps are great. However, the shinguards and elbow parts may seem way to thin for providing any protection. So, as anyone would have expected, the bundle comes with both the highs and lows.
However, since we are reviewing the gloves mainly, the bundle scores really high on our list. For the price, you get more value than you expect.
PROS
Comes with every kind of protection.
The gloves are of good quality and design.
Offers ample protection to hands.
Easy to use.
Good build quality.
CONS
The other accompanying parts are not top notch.
The gloves may not be suitable for too much abuse.
Venum Contender Boxing Gloves
The Venum Contender Boxing gloves are another pair of beginner level gloves that will help you improve your game. In fact, it is not suitable for advanced players for a much different reason but one of the reasons is definitely not the size. If you want your gloves to fit you perfectly like an artificial hand then these are what you need.
Firstly, the gloves will provide you with a nice fit with your hands taking up all the space inside the gloves. Your thumb will be perfectly safe in it as well. However, you might have a difference of opinion when it comes to foam.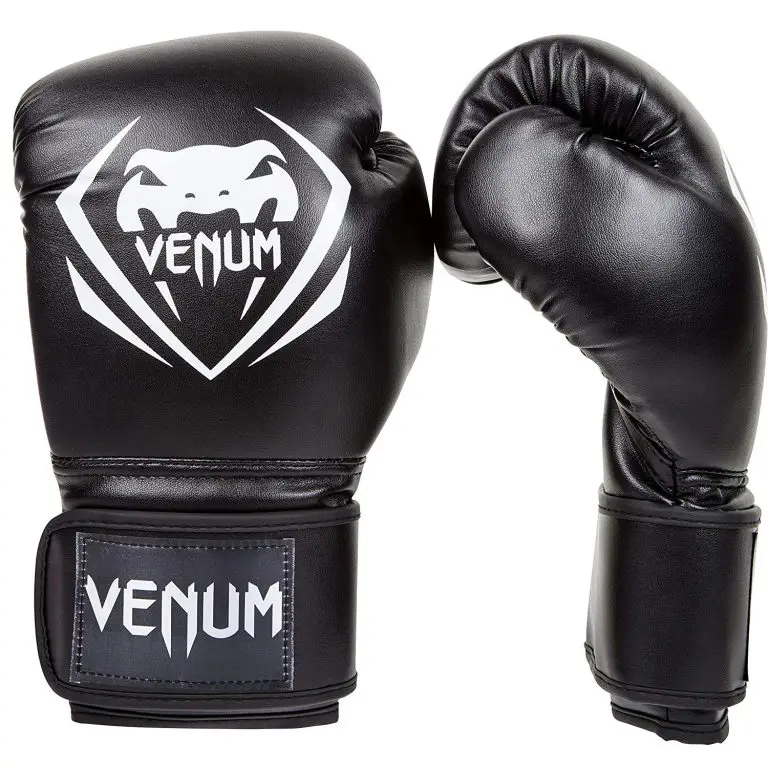 While many boxers who hit the bag very hard found that the padding was ample for protection, many others did not. However, if you are sparring then the padding will be ample for you with the right amount of foam in the right places.
Although it is made from high-quality synthetic leather, the inner lining and insides of the gloves are not equally high quality. In fact, the gloves often tear from the inside after a not-so-long usage.
Therefore, you get ample support and perfect fit from these gloves alongside protection. Although you do not get the best quality, these gloves are best for their price point and for beginners.
PROS
Great value for money for beginners.
Fits nicely.
Supports the wrists well.
Convenient to put on.
Offers enough protection for sparring.
CONS
The inner lining is not durable.
Not of the best quality.
Fairtex Muay Thai Style Training Sparring Gloves
Want the best quality of leather gloves in your hands? Then, these Fairtex gloves will not only make you feel that you have the best quality in your hands but also they make you think you have the best-looking one as well. You do not have to break your bank for it either!
Firstly, let us talk about size. These Fairtex gloves do much justice to the size and you will find that the one suggested for you fist you perfectly. However, it is best if you use hand wraps to break in it.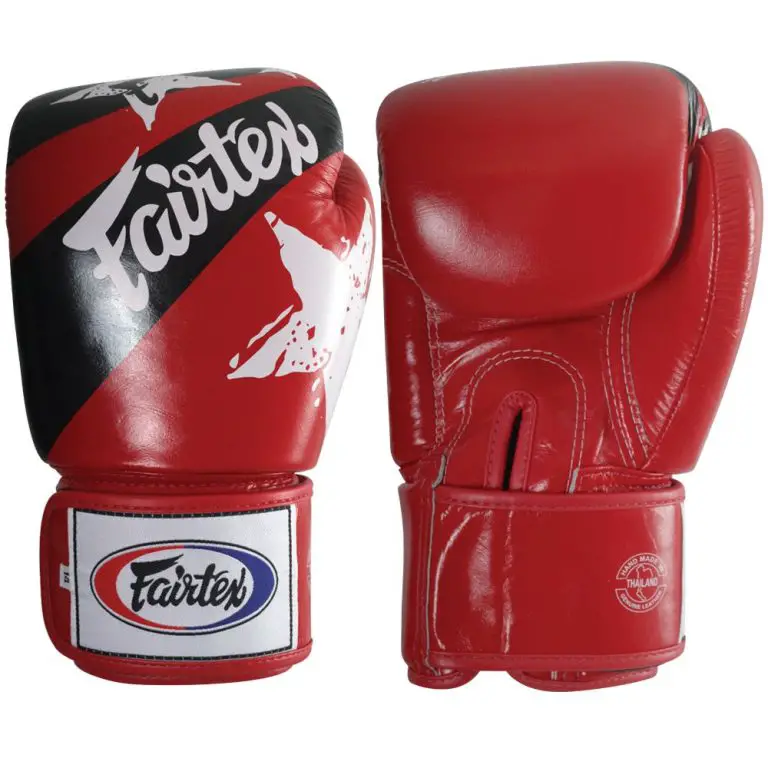 As for the padding, you may or may not like it based on what you prefer. Apparently, these gloves have really dense foam in it as padding, as a result, it looks quite thin. However, it does provide ample protection for sparring.
You may find that it lacks somewhat in providing ample relief when you are bag boxing or training really hard. In fact, you might feel your impact more clearly than you want to. But when it comes to quality stitching and material, this probably has no match in how good it is and it looks.
But, your hands might get a bit sweaty as the ventilation inside may not be enough. Other than the few cons these have, the gloves are very comfortable to use and will get you compliments.
You can read the details review of Fairtex Muay Thai Gloves Review for getting a good grasp of knowledge about it.
PROS
Excellent leather and build quality.
Looks expensive but costs less.
Ample protection when sparring.
More control over the hits.
Easy and comfortable to put on.
Quite compact.
CONS
The padding may not be enough for some.
Lack of air flow.
Everlast Pro Style Training Gloves
These gloves are neither the best nor the worst but good enough to be of consideration. In fact, if you are not a regular boxer who hits the bag really hard every day then these are gloves you can consider. What makes it stand out from the others? The performance at its price.
Apparently, these gloves are great for beginners who are practicing occasional sparring. There is ample padding to protect both your hands and your opponent but just not enough for heavy aggressive bag boxing sessions. So, the main feature 'the padding' is not bad. We also have a detailed review on Everlast Pro Style Training Gloves in case if you want to check that out.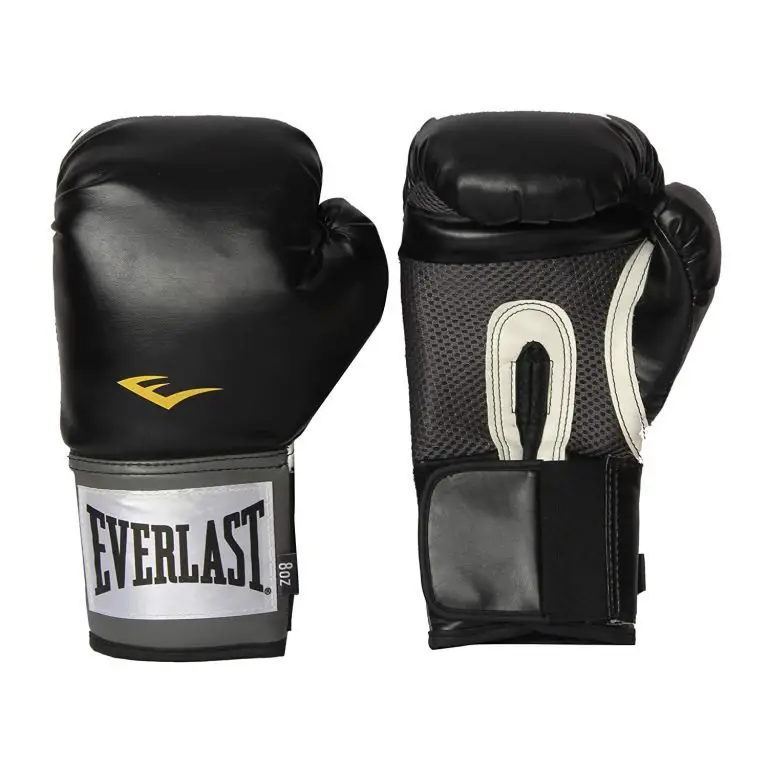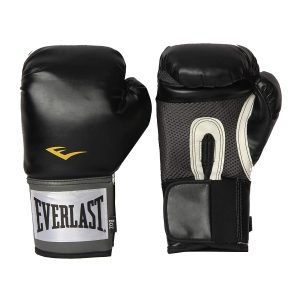 What may disappoint you is the wrist support. In fact, the wrist area is too large compared to the overall size of the gloves. So, even if the gloves fit you perfectly, you will find that you need to buy a hand wrap to get wrist support.
In fact, the wrist support is so bad that you might even injure yourself. Other than that, the gloves are really easy to put on and have a lining that prevents smells. However, a few customers found a stubborn chemical odor when they got these gloves.
The gloves last long enough to give you value for the money. So, if what it is fit for satisfies you, you are in for a decent ride.
PROS
Affordably priced quality gloves.
Great for sparring.
The padding is supportive for moderate boxing powers.
Good quality build.
Fits well.
CONS
No worst support.
May smell.
Could have a better design.
Venum Elite Boxing Gloves
Want the protection like that of an expensive bodyguard but cannot afford the expenses? Then, the Venum Elite is something you may consider. These affordable gloves let you fight with a partner while protecting both your hands and your partner's wellbeing.
Firstly, what will impress you about this glove is the padding. Apparently, the palm of these gloves come padded so this will minimize the impact on your hands. Furthermore, the thumb comes well attached with the gloves, so you can stop worrying about the tiny thing.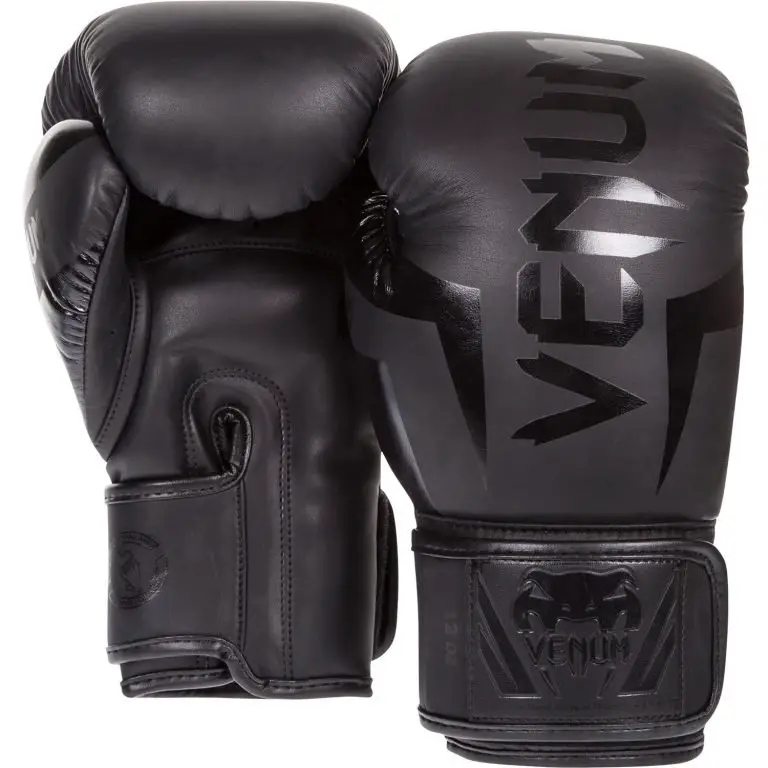 What you will have to be careful about is the size. Apparently, many customers found that the gloves are tighter for the mentioned size. In fact, your hands will need some time to break in it and even when it does, you will have to be concerned about the gloves not becoming too loose.
Apart from that, the quality of the gloves is amazing considering that they are made of synthetic leather. Although there are mesh compartments to generate airflow, not all the gloves feature them so make sure the one you choose does. But, cleaning these gloves won't be easy so if you are alright with sweat being accumulated in it then it may be something you will love.
For the price, these gloves do well but there sure are some drawbacks that you should check carefully.
PROS
Padding in the critical areas.
Good quality build.
Offers good value for money.
Looks great and dangerous.
CONS
The padding may not be perfect for the sizes.
Not true to size.
No solution for sweat.
Fairtex Breathable Thai Style Training Gloves
The Fairtex Breathable Thai gloves are something you may prefer for light sparring only when you are just beginning to play. You may or may not find it worth the price and that depends on how well it serves your purpose. However, while these gloves do satisfy at their best, but they do not delight.
Fairtex maintaining its brand reputation has made these gloves with genuine leather that lasts. In fact, it will hold up well against rigorous tough training. However, the concern here will be if your hands will hold up.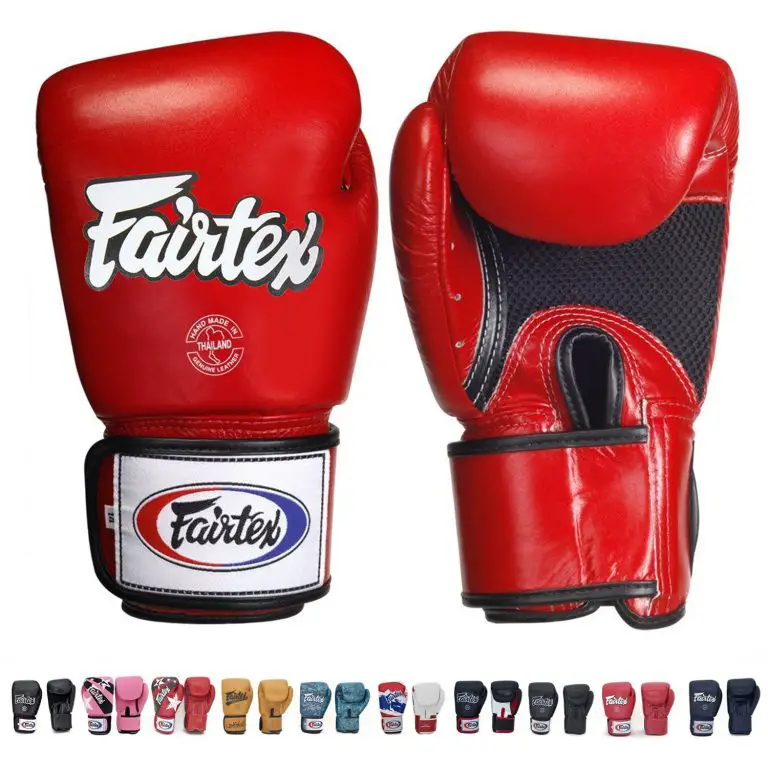 Apparently, many users of these gloves complained that the gloves are not padded enough. The padding is equally distributed yes but if it is not enough you will feel the impact on your fists. And, that sure hurts.
Apart from that, the sizes are quite accurate so no problem there. However, the inner lining is not as top notch as the overall build and those might be the first things to go when these gloves wear out. While these will give great support to your wrists, it will not equally support you with cooler hands or easy cleaning.
The ventilation is miserable. But, at least it is easy to wear with the vector straps. It offers mixed value for the price based on what you need.
PROS
Durable for rigorous sparring.
True to size.
Equal distribution of padding.
Easy to use.
Good wrist support and weight.
CONS
The padding may not be enough.
Poor ventilation.
Inner lining, not the most durable.
Twins Special Boxing Gloves
If you want a glove that helps you to be faster, then the Twins Special may help you. It will not just make your punches faster, but you will be done with your preparation faster as well. All these at a reasonable cost too!
What you need to know first is that these gloves are quite compact. So, the size you usually use may seem to be too small when you use the same size of these gloves. However, except for a few people, most people liked the tighter grip and compact design which is responsible for faster speed.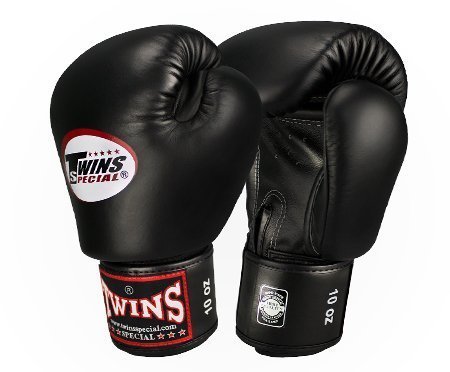 The best feature of these gloves is the wrist support they offer without making your hands feel heavy. However, the padding is not exactly ample and great for heavy boxing. If you are sparring lightly than the soft padding will protect you or else, be ready to be hurt.
Putting these gloves on is super easy and taking them off is easy too. Moreover, washing them is no big deal and you can wash them in any way you want. There are no issues with smell either as it conveniently gets rid of the smell.
Apart from that, the quality of these gloves is top notch and much better than what you expect at the price. It is not just the leather but also the stitches that hold up really well for years.
PROS
Good wrist support.
Feels compact and light.
Speed movements up.
Great quality build.
Convenient to use.
A good price.
CONS
Not ample protection.
One glove might feel tighter than the other.
Needs some time to break in it.
Top King Gloves
Winning but also making sure you do not cause a critical injury to your opponent is tough. Therefore, you need a glove that helps you perform but also protect. And, the Top King gloves might just be what you need.
These gloves will both make you fall in love with a few features and hate a few. Firstly, these may not be the best gloves for people with bigger hands. Apparently, the area inside these gloves may not be ample for the size.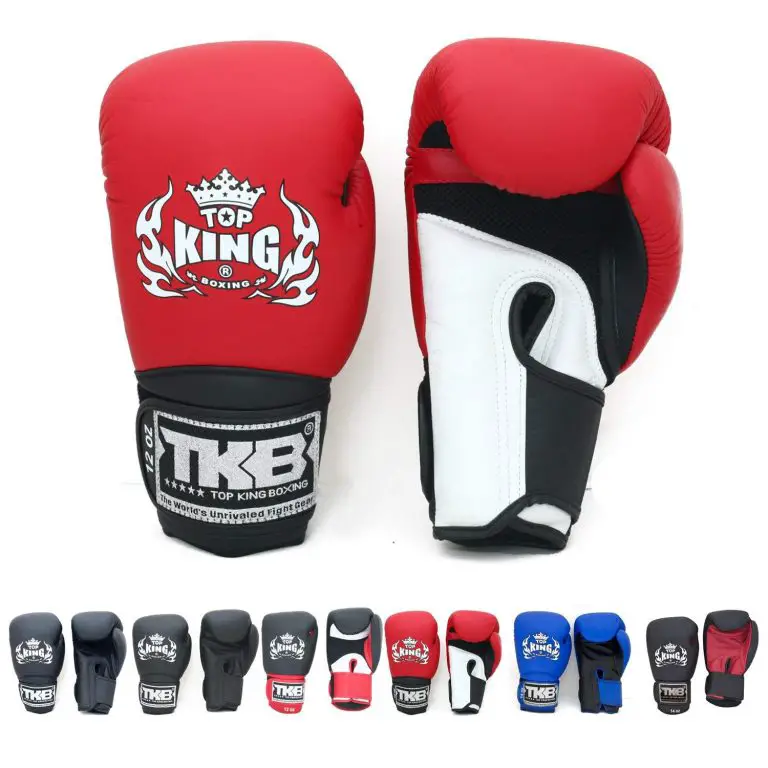 However, it fits those who want it to fit perfectly and tightly. On the other hand, you will have the exact opposite problem with the outer part of the gloves. Apparently, with ample padding, the gloves kind of looks and feels really large.
Well, this particularly helps with protecting both your hands and your partner's face so if you do not have any issues with it, these gloves will do fine. Now, with all cheaper gloves comes the concern for quality.
Apparently, the gloves may not display the best stitching performance because the wrist area may tear up way too soon. However, that does mean that the wrist support is weak. In fact, you get ample wrist support and a long cuff as a bonus which many do not prefer.
PROS
Gloves great for sparring.
Protects both the hands and the opponent.
Offers ample wrist support.
Reasonably priced.
Good leather.
CONS
The build quality is not the best.
The gloves may be too tight.
May feel too large.
The Velcro straps are not the best.
Confusion about the well-ventilated air model may exist.
Original Deportes Casanova Training and Sparring Boxing Gloves
At times the key to winning is making your opponent nervous, which your appearance may be capable of doing. The Original Deportes Casanova gloves have such a professional look that it may just scare the opponent. However, it does much more than that and less in a few cases.
These gloves are definitely long lasting and will provide you with ample protection for the hands when sparring. In fact, the padding is well distributed and of good quality. Furthermore, the lace-up design will help you tighten it up as much as you want.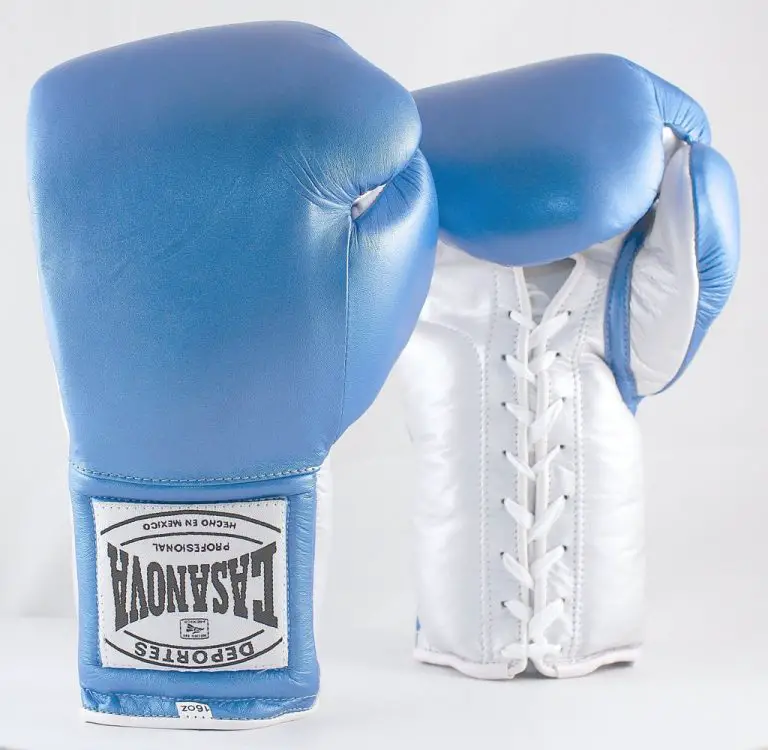 However, you may not find the perfect size for you that easily because it is no very true to size. But, if you do, it will provide you with ample comfort and impact feel. Although the material of the gloves is of good quality, it does not look equally expensive.
It offers ample protection to your thumbs as well and supports the wrists well too. However, it does cost much more than what it should actually cost. There are many other better-quality gloves available at lower prices.
PROS
Offers ample protection with good padding.
Looks professional with the laces.
Good quality build.
Quite durable.
CONS
Does not look expensive.
But, is expensive.
Best Boxing Gloves For Heavy Bag Training and Sparring: The Buying Guide
What you need to know before going out and falling in love is what you require. And, here are some of the factors to consider to know what you need and want.
1. The Type of Glove
You must be wondering what you are particularly looking for boxing gloves and why we have a factor titled 'the type of glove' here. Apparently, there are a number of types of boxing gloves that you have to choose from. Without further ado let us enlighten you about these types.
Bag Gloves: The initial image you had of boxing was probably someone beating a hanging bag right? So, the bag gloves are for those who box on bags. Apparently, these gloves only provide protection to your hands and not what is on the outer side of it.
The reason is quite clear because bags do not need protection. So, these are padded just enough to protect your hands and you can use them abusively for quite a long time. They are built to take the rough workout sessions.
Sparring Gloves: These are basically the gloves you use when you are fighting another boxer. Unlike bag gloves, these gloves protect both you and the person you are fighting. The reason is pretty obvious in this case too- your opponent is human and needs the protection.
Now, you might be wondering if sparring gloves are what the famous boxers use. Apparently, no. Sparring gloves are what beginners or people just starting to fight use.
These are heavier than competition gloves so that the damage caused by it is minimum.
Training Gloves: When there are two poles, there is always a middle path and the training gloves are the mid-path here. Apparently, training gloves are what most beginners start with. These are all-purpose meaning they allow you to both box a bag and also spar.
However, you might find that it does one better than the other. Most beginners start with training gloves as they are versatile and can take abuse. Then, after finding out their boxing goal, the beginners shift to other more specific-purpose gloves to improve skills.
Competition Gloves: These are apparently the lightest gloves among the ones we mentioned. Apparently, professional boxers use these in tournaments so they can move fast and cause maximum damage to their opponents. These gloves offer more flexibility than protection.
2. The level you are at
If you are a beginner then training or bag gloves are perfect for you. However, if you are training to fight humans then sparring gloves are what you need to go after. On the other hand, professionals usually keep both bag/sparring gloves with them including competition gloves.
This is to improve their stamina by boxing with heavier gloves. If you want to develop your skills, you can try out the bag or sparring ones as they help improve different moves.
3. The Size you need
This is one of the crucial things you read this far for, right? Well, we know how hard it is to get the right size and it won't get much easier after reading this. But, you surely will get a clearer idea.
Basically, boxing gloves have sizes ranging from 8oz to 16oz- all even numbers. Apparently, the weight has a lot to do with the size. Apparently, the more you weigh, the heavier you will need your gloves to be.
However, what the weight should also depend on the style of boxing you are into. For example, if you are boxing bags then you need more padding and more padding means more weight. Usually, the size also denotes the weight but that is not always the case.
You need sparring gloves to be bigger in size than the training gloves. A more or less standard measure of size is that children or adults under 120 lb should use 10 oz training and 12 oz sparring gloves. On the other hand, boxers over 180 lbs should use 16-18 oz training gloves or 18-20 oz sparring gloves. And, the rest lies in between.
It is not just the weight that matters but the height does too. The equation is quite similar to the taller you are the heavier your gloves should be. Here are some different size charts of boxing gloves.
Apart from these height and weight considerations, you need to consider your comfort, fitting and flexibility as well. Apparently, you have to try the gloves on with hand wraps on. Then, flex your hands and see if anything is causing any discomfort.
The glove should neither be too tight nor too loose.
4. How you fasten it
The next consideration is how you want to fasten the gloves. In fact, most professional and traditional boxers use the shoe-lace type fastening gloves. They are more classic and provide a firm feeling as well.
However, these may be troublesome if you need to tie these up yourself (You can imagine). So, these are mostly used in tournaments where someone else tries them up for you. Apart from that, you might not be able to tie them up as tightly as you want yourself.
On the other hand, we have the velcro system. These are definitely easier to use but not the most firm or classic. In fact, there is the risk of it opening up at any moment.
But, they are fine to use for practice.
5. The material
Boxing gloves are usually made of leather but you will find vinyl and other synthetic gloves available now. However, with boxing gloves, genuine leather is still the best even if expensive. Other materials may look good with attractive colors but when it comes to service, leather- the root material is what you should go after.
Because leather gloves are durable, resistant to wear and tear and aid fast movement while the vinyl and other materials do not.
6. The Color
No, it is not just about the color you like but more about science. Apparently, the color of the gloves matters especially when you are fighting other boxers. In fact, the less visible the color to the human eye, the more advantage you have over your dazed opponents.
Apparently, lighter colors are easier for your opponent to see and darker ones like red are harder to see. So, when you are playing with red gloves, you might just be able to play with your opponents focus as he will be too dazed to track the red gloves coming movement.
7. The Brands
When it comes to boing gloves, brands definitely matter. This is because you will find hundreds of brands selling boxing gloves when you start looking for it. However, many of them are not even sports or boxing brands.
You can imagine the expertise behind the manufactured gloves and their durability now but it will confuse you when you actually see them. Most of these gloves are just good looking pieces of junk that do not last long and improve nothing. So, what you buy gloves from well-established brands that are renowned for their art in this field.
Three such famous brands are:
Winning: This is one of the leading brands for boxing gloves for training and bag gloves. In fact, this brand manufactures gloves that protect you really well. Furthermore, it helps to improve your skills as well.
So, it is best to save some money to buy from this brand for long-lasting, intense practice sessions.
Cleto Reyes: If you want to bu expensive gloves, you can buy from this brand blindly because you get exactly what you pay for. In fact, Cleto Reyes offers better and even better gloves the higher you go up the price ladder. So, if you have money to spare and serious competition insight, this is where you go.
Title: Do, not want to spend loads but want the best quality and performance? Then the Title is the brand that will provide you with the best value for money when you are buying boxing gloves.
Benefits of buying the Best Boxing gloves for Heavy Bag Training and Sparring
The benefits of boxing are quite obvious. Not only does it improve your physical strength, body coordination, and condition but it also helps your mental health by reducing stress. However, how exactly do training and sparring boxing gloves help?
Reducing Impact: The first thing boxing gloves do is reduce the impact you are hitting with by absorbing some of it. How is that a good thing? When you are training or sparring you do not intend to knock your partner out, do you?
You are doing sparring to improve your skills and speed. Therefore, these gloves improve your skills and also stamina with their padded selves and help you do better.
Becoming the perfect match: If you are not considering buying gloves then you are probably using one of those available at the club. However, these gloves provide more obstruction than encouragement. They will not fit probably and also will not serve your purpose.
Therefore, getting the gloves that perfectly fits you and your purpose should be the priority.
Improved cardio and everything else: These weighted gloves will utilize most of your body parts and especially help to improve your cardiovascular condition. Furthermore, it will improve your strength and also coordination by letting you handle the weight on your hands and helping you exert more to achieve your results.
Frequently Asked Questions
1. Is it alright to use one glove for both sparring and bag boxing?
Answer: If you are using training gloves then you can use it for both purposes. However, if you are using sparring gloves then we wouldn't recommend using it for anything else but sparring. Because these gloves will absorb more impact and wear out sooner when used for boxing on a bag.
On the other hand, if you use bag gloves for sparring, it will be to cruel for your partner because the gloves may protect your hand well but it will impact your partner without mercy. And, that is quite dangerous.
2. How do you take care of the gloves?
Answer: The main issue to take care of is the smell, right? It is rather simple to deal with. In fact, you just have to dry out your gloves well after each use.
You can also use antibacterial wipes on it. Furthermore, make sure you do not keep it confined in a dark or wet place then the smell would be horrible.
Final Verdict
Finding the right sports equipment is never easy. In fact, it is like fixing a puzzle that is much harder than normal puzzles. In this puzzle, your hand is one piece and the gloves are the two other pieces that complete the puzzle.
The twist is that you have to find the gloves form a very wide range of choices. But, the good news is that there are quite a number of options you get to choose from. And, in this puzzle, we are acting like the hints by telling you what to look for and what could be the potential puzzle pieces for you.
So, go get started on finding the best boxing gloves for heavy training and sparring and box with dignity.