Considering how over saturated the market is, it gets quite tricky for a boxer to choose gloves. Alongside that, each of the brands has an extensive lineup of products that is good enough to baffle a shopper.
And as you have found your way to this article, we think that it is safe to assume that you decided to dig into what Venum has to offer, specifically the Impact lineup.
Well, you would not be that satisfied with your purchase decision if you do not go through the Venum impact boxing gloves review. And that is what we are here to offer you.
Hopefully, by the end of this article, you will be more familiar with the gloves and will be able to paint a clear picture of the things that you would be able to expect from these after making the purchase.
About Venum
Let us first make you a bit familiar with the brand. Unlike the other well-known gloves manufacturers, Venum has been around for a short amount of time. In fact, they have been in the market for more than 12 years. And in this short span of time, they have managed to place themselves among the top brands.
Also, they are not only popular among the boxers only. You would find people from different fighting disciplines talking or using a product that is from this manufacturer. Even though they started with a small lineup of products, they have expanded their overall offerings throughout the years.
Now, they have an offering for each of the budget segment. One of the main reasons why they are this popular is because of how they improve their lineups by taking the feedbacks of the customer.
Each of the iterations has something that is done better than the previous one. For that reason, with each of the new lineups they bring out, they manage to impress a vast number of crowds.
Alongside that, as most of their lineups are more accessible to the crowds, they are one of the go-to options for most of the boxers that are now starting their boxing adventure.
Other than that, they have an extensive lineup for the fighters that have special needs as well. And one of those lineups would be the Impact lineup that we are going to talk about.
Also you can read our another article about Venum Challenger 2.0 MMA Gloves Review
Venum Impact Boxing Gloves Review
A Quick Glance of the Features That It Offers
Before we dive deep into the glove's different aspects, let us give you a quick rundown of the highlighted features. They are as stated:
Made of quality synthetic leather

Offers superior protection from impacts

Enhanced comfort

Has good enough ventilation

Cuffs are reasonably longer
Venum Impact Boxing Gloves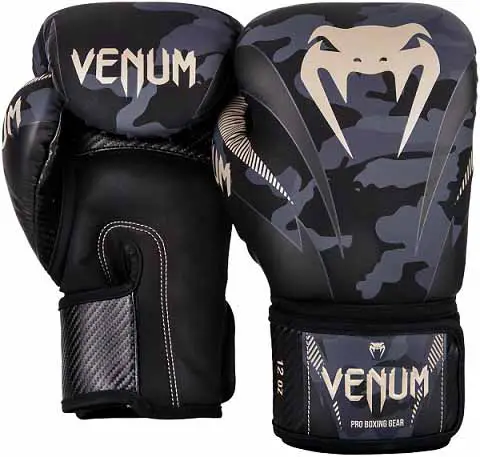 Now that you are a bit familiar with the features that you can expect from these gloves. Let us dive a little deeper into each of the aspects of the gloves that make these worthy of recommendation. They are:
Material:
First of all, let us start talking about the material they have utilized for the units' overall construction. Like we mentioned in the highlighted features, the exterior of these is 100 percent synthetic leather.
And no, the leather is not the cheap ones that you would find in the low-end gloves. Instead, they have sourced out heavy-duty and high-quality ones that closely resemble the genuine leather.
On the underside, they have decided to put a mesh panel. The palm has this panel, which makes it achieve a breathability factor. Also, the panel has a fair amount of ventilation. That is going to make sure that the air can pass through the palm area, which will eventually keep your hands dry and cool.
And if you were wondering what would be the purpose to keep your hands dry and cool, in short, it will give you an advantage in intense fighting sessions.
Many of the boxers are prone to sweating, and when the hands do sweat, there is a high chance that you are going to lose control over the punches that you are going to drive. And these breathable characteristics will lower the chance of that happening.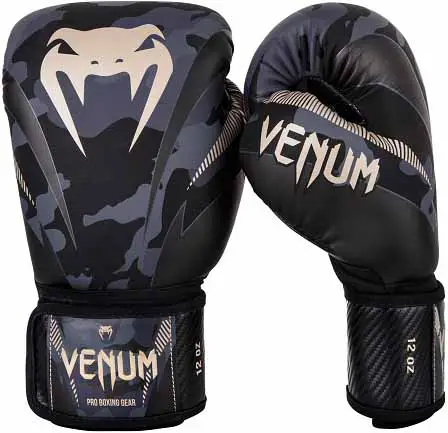 Strap:
The cuffs that these features are considerably long. In fact, it is longer than what the other brands have to offer. For that reason, even if you manage to pick a wrong size option, you would be able to find a way to get a secure fit on your hand.
And to further enhance the secure fit characteristics of the gloves, it implements Velcro straps.
And the straps have the same synthetic leather on the exterior, which will not make them look out of place. Alongside that, the quality of the straps is relatively high as well. That means you would not have to worry about these wearing or tearing down anytime soon.
Padding:
On the not of padding, these are up to par with the rest of the high-end gloves that are out there. In fact, these can even exceed some of the high-end units regarding the thickness.
The foam that these have are the triple-density types. It is formed in such a way that your hands stay in the punching position naturally. You would not feel like it is forcing you to change the position of your hands.
Other than that, the foams are well-performing in the case of absorbing impacts as well. You would be able to block and protect yourself effectively with these.
Also, because of the high impact absorbing capability that it has, you would be able to train for an extended amount of time without feeling that your hands are going to blister.
Lastly, there is s thick amount of foam in the thumb area. That will lower the chances of your thumb getting sprained or broken. You would be able to drive high force punches without any worries at all.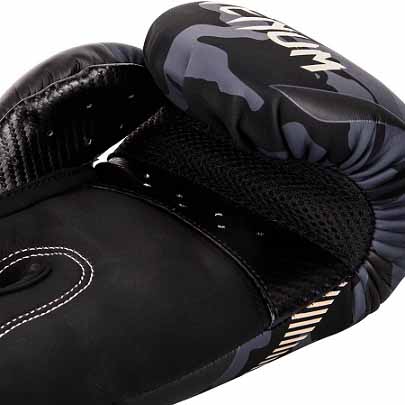 Fit:
As you have guessed by now, the straps are going to make sure that you have a secure fit on your hands. Depending on the size of your hands and the size that you decide to purchase, you are going to get a snug overall fit. Also, most of them will have enough room on the top, which will promote the hands' natural positioning.
However, some users have complained about the fit because of the long cuffs that these have. They have noted that the cuffs tend to irritate the skin as it tends to come way down in the arm section.
Well, according to us, that would only happen if you happen to choose the wrong size. So, if you do want a proper fit, we would highly recommend checking the size options first.
Comfort:
Because of the padding that these have, they are capable of offering a superior amount of comfort. The cushioning on the interior is quite extensive. That is going to allow you to wear it for a prolonged fighting session without having to worry about any discomfort or anything of that sort.
And the breathable factor that these have adds a cherry on the top regarding comfort. You are not going to feel like you have just finished a laundry session after wearing these for an extended amount of time.
Also, the long cuffs that we talked about earlier have a good amount of padding as well. You will find those comfortable as well unless you get the wrong size.
Protection:
The protection is a factor that is going to highly depend on the padding. And thankfully, this unit that we are talking about has a good amount of it.
For that reason, it would be no trouble at all for you to block strong and high impact punches. In fact, you would not be feeling like you are blocking off the punches because of the impact-absorbing foam that it has.
Weight Option: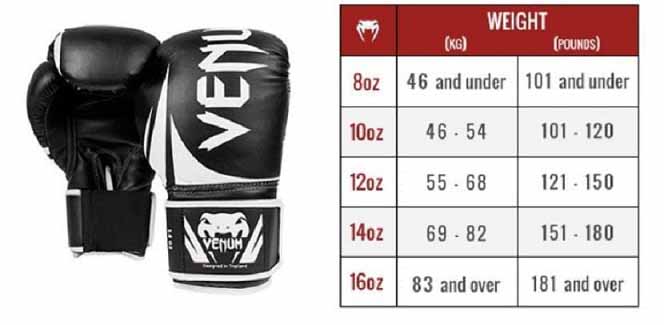 Just like the other brands, Venum is offering multiple options regarding weight. There are five different options, to be exact. And just like the other units, the width will increase with the increase of the weight.
Also, it would be quite easy for you to get the right size that is going to suit the most on your hands because of having that many options.
Design:
The manufacturer Venum did not skimp one bit regarding the outlooks as well. There are a total of 10 different designs available for this.
You would be able to choose one from Dark Camo, Black Camo, Balck and Brown, Balck and Red, Black and White, Gold and Black, Grey and Black, Khaki, and Black, and finally Khaki and Gold. We must say all of them look quite elegant and sleek.
Value:
Aside from all of the factors, these gloves offer a good value proposition as well. The price tag that they have are pretty reasonable. You would be getting the most out of the money that you would have to spend on these.
Also Read: Best Fairtex Muay Thai Gloves Review
Final Words
With that, we are at the end of our Venum Impact boxing gloves review. We hope that we were able to fill you in with every important aspect of the glove, and now you are well aware of the things you can expect from these.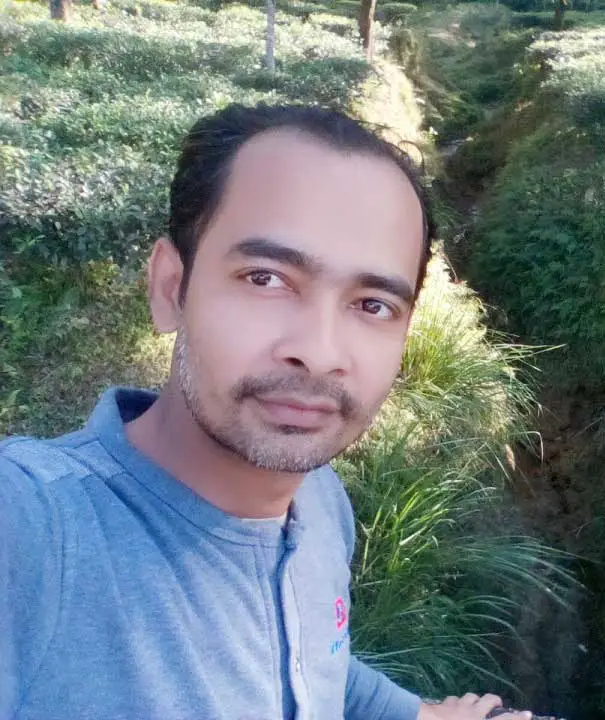 I'm Abdur Rahim. I completed my Post Graduate from the Southeast University of Bangladesh. After then I start my professional with the Bangladesh Professional Boxing Society as an assistant manager of Admin. From my personal experience, I start writing about boxing accessories. I love this game, and that's why want to share my experience. I think beginners to experts all boxers need to know about well accessories in boxing.